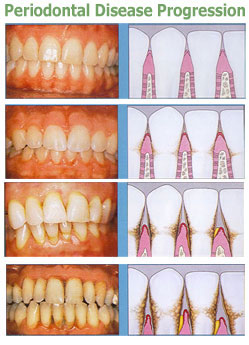 WHAT CAUSES PERIODONTAL DISEASE?
Our mouths are full of bacteria. These bacteria, along with mucus and other particles, constantly form a sticky, colorless "plaque" on teeth. Brushing and flossing help get rid of plaque.  Plaque that is not removed can harden and form bacteria-harboring "tartar" that brushing doesn't clean.  Only a professional cleaning by a dentist or dental hygienist can remove tartar.

GINGIVITIS
The longer plaque and tartar are on teeth, the more harmful they become. The bacteria cause inflammation of the gums that is called "gingivitis."  In gingivitis, the gums become red, swollen and can bleed easily.  Gingivitis is a mild form of gum disease that can usually be reversed with daily brushing and flossing, and regular cleaning by a dentist or dental hygienist. This form of gum disease does not include any loss of bone and tissue that hold teeth in place.

PERIODONTITIS
When gingivitis is not treated, it can advance to "periodontitis" (which means "inflammation around the tooth.")  In periodontitis, gums pull away from the teeth and form "pockets" that are infected. The body's immune system fights the bacteria as the plaque spreads and grows below the gum line. Bacterial toxins and the body's enzymes fighting the infection actually start to break down the bone and connective tissue that hold teeth in place. If not treated, the bones, gums, and connective tissue that support the teeth are destroyed.  The teeth may eventually become loose and have to be removed.
TREATMENT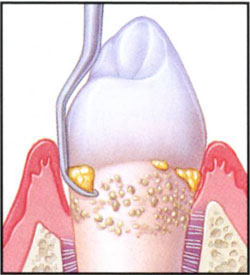 Scaling and root planing is the first approach for treating periodontal disease. This procedure is a deep cleaning to remove bacterial plaque and calculus (tartar). Scaling involves scraping tartar from above and below the gum line. Root planing smoothes the root surfaces of the teeth. Your dentist will reevaluate the success of this treatment in follow-up visits. If deep periodontal pockets and infection remain, periodontal surgery may be recommended.
Postoperative Instructions
Following scaling and root planing, you can expect to notice less redness, less bleeding, and less swelling of your gum tissue. Your mouth will taste better and feel better. Your gum health can then be maintained with proper homecare and regular professional care.
DISCOMFORT:
Discomfort of pain should not be acute and should subside in a few hours, definitely within a few days. Discomfort immediately after treatment is usually associated with slight throbbing or aching and occasionally may be uncomfortable. This discomfort usually subsided in about four hours. Your jaw may feel tight or sore this usually from the strain of having your mouth open for a longer period of time. This should subside with a few days.
TOOTH SENSITIVITY:
Teeth may be sensitive to extreme temperatures and/or sweets. The sensitivity to temperature may be noticeable the first several days and usually diminished quickly. Application of a desensitizing fluoride may be recommended.

BLEEDING:
Some slight bleeding may occur during the next several brushings but the bleeding should steadily decrease. Mouth rinsing with warm salt water is recommended.
APPEARANCE:
As the gums heal they may change their shape around the teeth. This is normal as they tighten.

DIET/EATING:
If extensive root planing was performed, chewing hard foods, such as meat or raw vegetables may be uncomfortable; this should last no longer than a few days. A diet of a softer consistency would be advised until chewing becomes more comfortable. We recommend you avoid foods with small seeds and course ground pepper, as they could be trapped in the healing tissue and cause problems later.