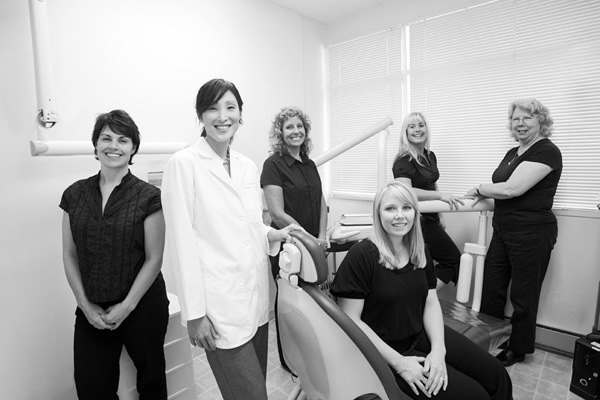 Vivian Bae, Dentist
Dr. Vivian Bae has been providing dental services to the families in the Des Moines/Burien area since 2005. She grew up in Shoreline, WA and attended the University of Washington for both her undergraduate studies in Biochemistry and dental school. Since graduating from dental school in 2004, she has been an active member of the Seattle King County Dental Society as well as local dental study clubs, which have allowed her to stay current with the changes in the dental field. When not at the office, Dr. Bae enjoys spending her time with her husband, who is a radiologist at a local hospital, their two girls (ages 7 and 4), and their baby boy.
Yuliya, Office Manager
Yuliya was born in Ukraine and moved to the US at the age of eight. She graduated from Pierce College in 2013. Her career started in clinical dentistry but transitioned to the administrative side of dentistry. She enjoys using her communication and organizational skills to help our patients stay on top of their dental health. Yuliya loves to bake (and eat) desserts, go on trips, and watch forensic files.
Carmell, Registered Dental Hygienist
Carmell has been a hygienist for over twenty years, graduating with a degree in Dental Hygiene from Yakima College in 1985. Carmell has always worked in the Des Moines/Burien area and provides different perspectives with her assorted experience in our office and others. It is her goal to provide excellent quality care to all of our patients. When Carmell isn't working she enjoys spending time with her parents, traveling and skiing with her husband.
MJ, Registered Dental Hygienist
MJ graduated from NYU with her A.S. in May '07, and her B.S. in January '08. She received two awards from her professors, one for Professionalism and one for her Advanced studies. She enjoys hiking, p90X, baking/cooking, knitting, and spending time with her two fat kitties (Schmoolie & Fatso).
Kristina, Dental Assistant
Kristina grew up in the Des Moines area and graduated from Federal Way High School and then went on to earn her AA degree from Highline Community College in 2005. Always being interested in the dental field she attended a dental assisting program and graduated with high honors. It is her commitment to make sure our patients have a wonderful and pleasant visit. Kristina recently returned from her maternity leave after having a beautiful baby girl. She also has an active toddler boy. She enjoys spending time with her family, hiking, and camping.
Jasmine, Dental Assistant